Circuit Information
LENGTH: 3.7 km / 2.28 miles
CORNERS: 10 left - 3 right
WIDTH: 12 m. / 39.37 ft.
LONGEST STRAIGHT: 700 m. / 2296.59 ft.
Laps: 30
2/3 of laps: -
Total distance: 110.1 km - 68.4 miles
Weather courtesy of Weather.com
[table]
[tr][td]DAY[/td][td]COND[/td][td]HIGH[/td][td]LOW[/td][td]DESCRIPTION[/td][td]PRECIP[/td][td]WIND[/td][/tr]
[tr][td]FRI Jul 10[/td][td]
[/td][td]67°F[/td][td]47°[/td][td]Partly Cloudy[/td][td]0%[/td][td]WNW 14 mph[/td][/tr]
[tr][td]SAT Jul 11[/td][td]
[/td][td]76°[/td][td]58°[/td][td]Mostly Sunny[/td][td]0%[/td][td]NNW 4 mph[/td][/tr]
[tr][td]SUN Jul 12[/td][td]
[/td][td]77°[/td][td]58°[/td][td]Partly Cloudy[/td][td]20%[/td][td]W 11 mph[/td][/tr]
[/table]
How It Should Have Ended - The Assen Files
The #46 Perspective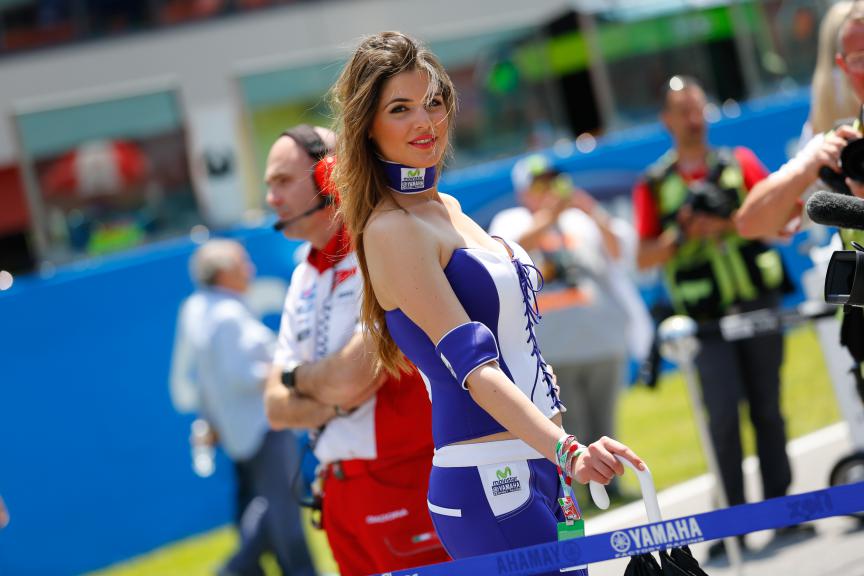 Host
: And now welcome today's race winner Valentino Rossi. Rossi, fabulous win today and definitely hard fought. Can you give us your perspective on the race?
Rossi
: Yah, for sure, this race-ah was deeficult, but as you say we work hard. I-ah make the good start and see right away that Hor-gay is close. So I try to make-ah the break. I touch the grass and Marc pass me, but I am too fast and he cannot break. So then I show him how to ride in front and take first-ah position back and kind of, you know, say follow me and you can see. Then it happens in the last corner and I have to go off, but for sure-ah I keep the bike up and win the race.
Host
: Did you feel that you were in the lead going into that chicane?
Rossi
: Ya, for sure, I was-ah in the lead. I push hard and could hear-ah the Honda fall behind so I think I cruise to finish. I enter the chicane and I see-ah his tire and then we touch. But for sure I was in lead.
Host
: Were you surprised at the contact and did you plan on using the gravel?
Rossi
: I know Marquez is behind me and for sure is affectionate guy, and it is last lap and I think maybe he ride a little aggressive.
Lorenzo
: <snickers audibly>
Rossi
: <glances at Lorenzo> Yes, <pauses>, but for sure I think I am ahead and nobody would try to make this pass so I can cruise to the win.
Lorenzo
: <turns head to side to cover cough>
Rossi
: <glances at Lorenzo> Yes, <pauses>, yes but I was the-ah lead. So I think he might try to pass but was too far back. So when I see the tire I thought, "Ok, I am in lead." But then we touch. So no, I-ah not expect touch.
Host
: Did you mean to cut the corner then?
Rossi
: When I feel the touch the bike stand up, and then were to go? Lucky I control the bike and get through.
Host
: Looking ahead to Germany, can you tell us what you expect?
Rossi
: Yes, I think Germany will be good. I have the good feeling with the bike-ah, and so I must work work again with good qualifying so I can be at the front.
Host
: Can you tell us a bit of what to expect from your rivals?
Rossi
: For sure!
Hor-gay will be fast-ah, right away we know he will be at front-ah
. You know Marc has the troubles this season, and maybe because he not finish some races might be feeling a little lonely from walking back to pit lane so maybe this race he try again to make the friends and shake hands. But hopefully he wait until the race is over to give the hugs.
Host
: Thank you Valentino. We go on now to our runner up.
The #93 Perspective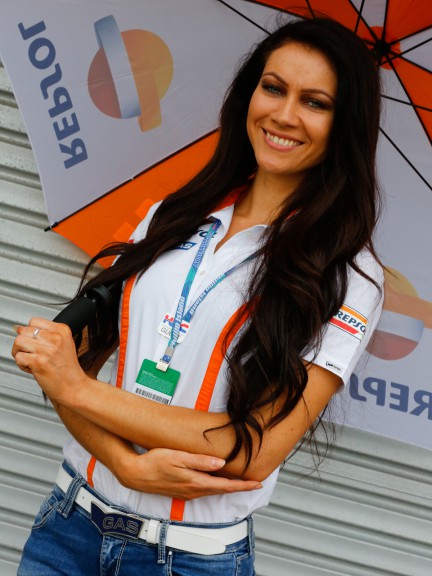 Host
: Marc, exciting race today! Has the problem with the Honda solved?
Marquez
:
Yes, we move forward with the bike and now we have the better control
. But is only this weekend, so we get more hope but not too much.
Host
: Your impression of how the race went?
Marquez
: Yes! I get a good start and right away I know I can challenge for the lead. Valentino is very fast and I get behind him we make a gap. I follow until I see he makes a mistake and I take the lead. I test him to see if he can keep up. He follow for a little and then I let him take the lead again but I stay with him. Then on the last I make a little mistake and fall behind. So I make the pass but he cut me off and we touch. He cuts the corner so I did not win the race.
Host
: So you are saying that you allowed Rossi through?
Marquez
: I know Valentino is strong in last lap and will fight to take the lead.
Lorenzo
: <off camera> You got that right.
Marquez
: So I know I can block him from the first corner and then take the position. I practice this all weekend, and I know I can do this. So I let him go by.
Host
: Valentino says that he got to the corner first and that you touched him. Is that how you see it?
Marquez
: No, no I made the right line. I win the last two championships, I know the ride. I make the right line and get the corner first. Valentino tries to close the line but he touches me.
Rossi
: The hell?
Host
: Do you think that Rossi went across the gravel intentionally?
Marquez
: Yes, definitely yes. I see Laguna Seca...
Lorenzo
: Here we go...
Marquez
: And I see Valentino willing to cut the corner. I know I have the correct line and on the inside, so he wants win the race. He cut in like in Argentina and we touch. So he cut the corner to get ahead.
Rossi
: You little...
Host
: Can you give us a prediction about Germany?
Marquez
: Germany, we are strong. Since Moto 2 I have no loss, so I think I am strong. Right now I focus on winning race, not so much championship. So yes, I think I can be strong and make the win.
Rossi
: <inaudible>
Host
: Thank you Marc. Now on to our third place finisher Jorge Lorenzo.
The #99 Perspective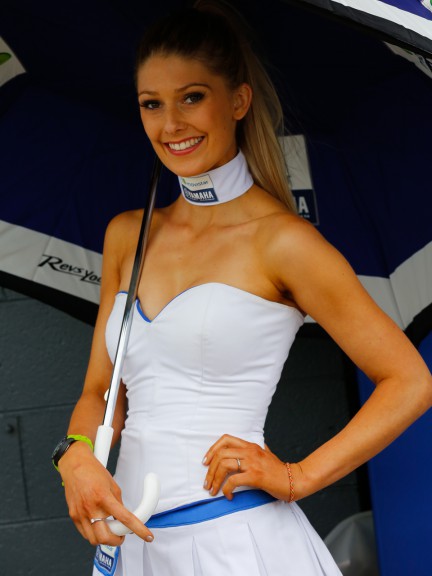 Host
: Jorge you finished 3rd today, was that a good result for you?
Lorenzo
: Yes, this track is not so good results in the past. My qualifying was not so good, but I get the good start and get close to the front. Then Valentino and Marc are really fast and I start to stay with them but then think, "Both guys are desperate for the win!" If I get in front of Marc he bumps me and tries to take the position.
Marquez
: <coughs>
Lorenzo
: If I get in front of Valentino he bumps me and tries to take the position.
Rossi
: <coughs and takes a sip of water>
Lorenzo
: So I hang back and try to follow. But then they are too fast and I take 3rd.
Host
: Hearing all this, who do you think was on the line?
Lorenzo
:
I see the video
and it looks like Valentino is into the corner first. Marquez tries to force the line but Valentino is too strong. Marc hits Valentino really hard and pushes him off the track. So I think Valentino wins the race.
Host
: Does the fighting between Marc and Valentino help you in the championship?
Lorenzo
: Yea, for sure. First they touch and Marc falls so I get some points. Ok this time they touch and Valentino goes off the track and wins the race, but Assen is special. Next time it is not so easy to still win, or maybe he falls instead, or maybe they both fall. That will help me a lot.
Host
: Why do you think the fighting is so hard between the two.
Lorenzo
: They cannot be smooth, it is their style. They are like the teenager and grope and pinch. Not subtle. My style is smooth. I caress the pavement with the bike. It is like dance with beautiful woman, is intimate. <smiles and winks into crowd> You listen to the onboard you can hear the track moan.
Female reporter
: <quietly leaves blushing>
Lorenzo
: So yes, this is why.
Host
: Do you have any predictions for the race in two weeks?
Lorenzo
: I race Sachsenring 13 times, and still no win. But this time I am close. I start 8 and finish 3rd this time, and I win 4 in a row! So I think this time I can be strong. But Valentino is strong also, and Marquez. So maybe if I just stay close they race and get friendly together. And I win.
Host
: Thank you Jorge. One more note before we open the floor.
The Aprilia Perspective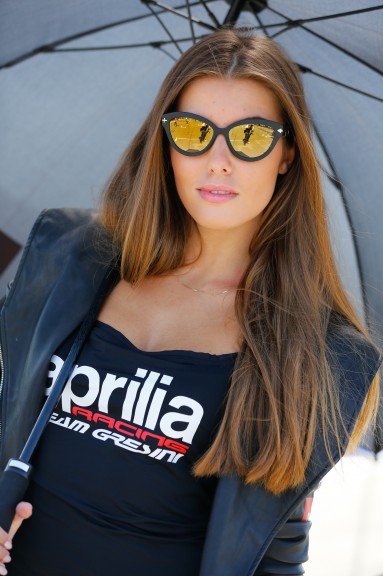 Host
: Romano, you have been about jumping out of your skin in the background, can....
Albesiano
: <grabs mic from Marc> This will be [url=http://www.crash.net/motogp/news/220891/1/official-marco-melandri-splits-from-aprilia.html]Marco's last race with Aprilia. We wish him well, yada yada yada. Michael Laverty will replace him in Germany.
Host
: Is the hope that test rider Laverty will do a better job under race conditions?
Albesiano
: Couldn't you?
Host
: Well I'm not a racer.
Albesiano
: <pauses> True. But you certainly couldn't do worse, could you.
Host
: That is a good point. Ok thank you Romano and we will now open the floor to questions.